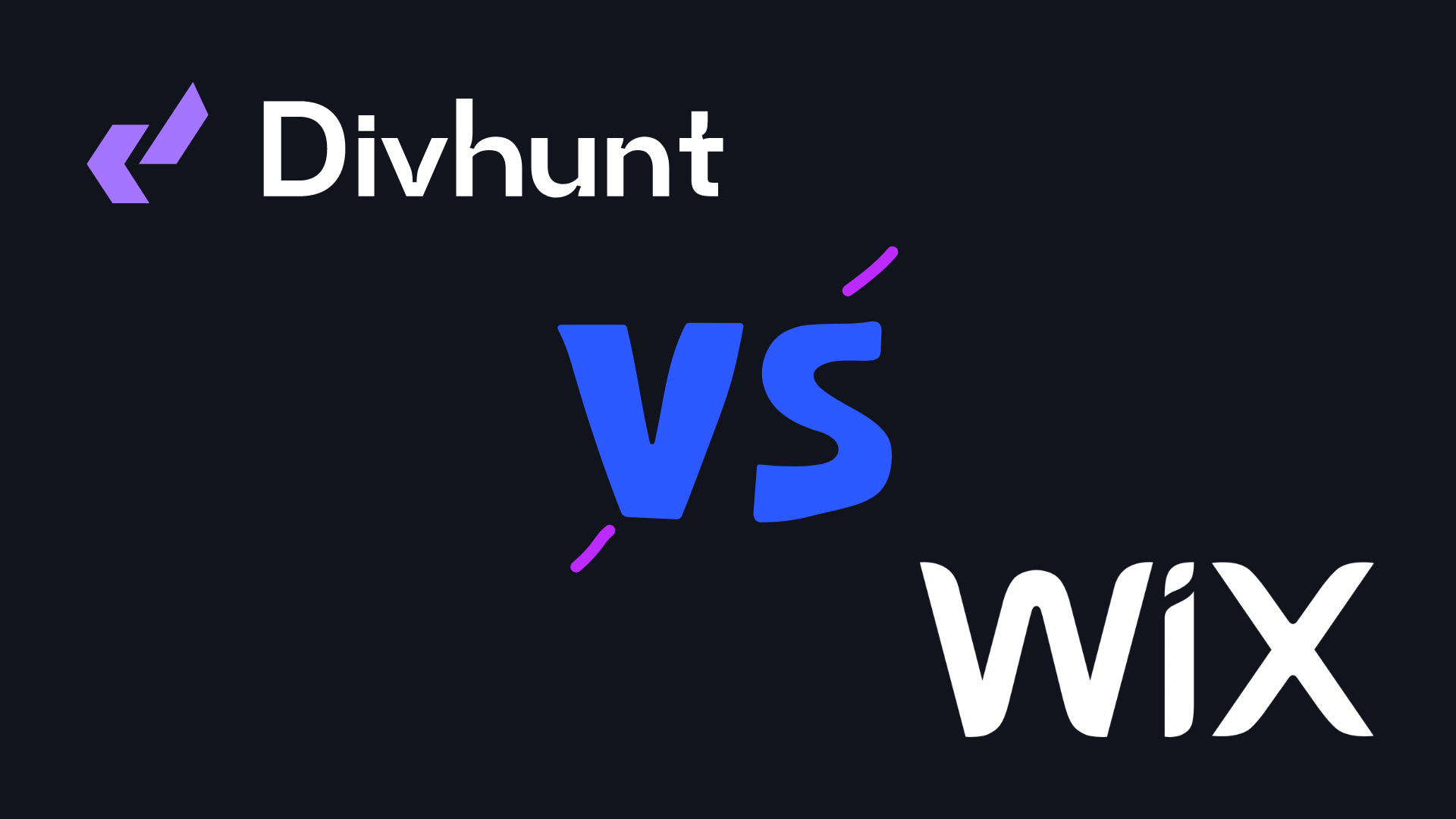 Divhunt vs. Wix: Unveiling the Ultimate Web Builder Showdown
In the ever-evolving landscape of website creation, two giants stand out: Divhunt and Wix. As you navigate the intricate web of choices, it's essential to understand the nuances that set these platforms apart. Join us as we embark on a comprehensive comparison between Divhunt and Wix, revealing the strengths and features that make each platform a contender in the world of web building.
Divhunt: The Pinnacle of No-Code Elegance
Divhunt redefines website creation with its no-code approach, catering to individuals and businesses that seek simplicity without sacrificing quality. With a user-friendly drag-and-drop interface, Divhunt enables you to design stunning websites regardless of your coding expertise. It's a platform that champions creativity without complexity.
Wix: A World of Design Possibilities
Wix is celebrated for its design-centric ethos, providing users with a vast array of visually appealing templates. If aesthetics are your priority, Wix's design options offer the canvas you need to create websites that captivate visitors. However, while design is a forte, a slight learning curve might accompany Wix's creative freedom.
User Experience:
Divhunt's No-Code Prowess: Divhunt excels in accessibility. For beginners and those without coding knowledge, Divhunt's user-friendly nature ensures swift website creation. Templates and intuitive features pave the way for hassle-free website design.
Wix's Design Versatility: Wix empowers users with design freedom. If your heart beats for artistic expression, Wix's customization options let you craft visually stunning websites. However, this freedom might require additional time investment, especially if you're new to web development.
Performance and Speed:
Divhunt's Lightning-Fast Advantage: Divhunt boasts optimized infrastructure, leading to blazing-fast performance. Quick loading times translate to seamless user experiences, boosting engagement and reducing bounce rates.
Wix's Balance of Performance: Wix emphasizes performance as well, ensuring responsive designs and competitive loading times. While Wix offers efficient loading, Divhunt's laser focus on speed offers a slight edge.
Ease of Use:
Divhunt's Intuitive Interface: Divhunt's straightforward interface is perfect for beginners. You can concentrate on content and design without grappling with code, making it an excellent choice for those new to web development.
Wix's Learning Curve: Wix's design-centric approach might entail a learning curve, especially if you're not familiar with design principles. Customization could demand a bit more time and effort, which might deter those who seek a streamlined process.
Choosing According to Your Needs:
Choose Divhunt If:
You're new to web development or lack coding expertise.
Speed and performance are paramount.
You prioritize user-friendly, no-code solutions.
You seek a swift website creation process.
Choose Wix If:
You value design aesthetics and creative expression.
You're comfortable with design principles.
You're willing to invest time in mastering design customization.
You want a platform that empowers artistic flair.
Conclusion:
The Divhunt vs. Wix showdown centers on your priorities and skills. If you yearn for a no-code, user-friendly platform that emphasizes speed and efficiency, Divhunt takes the lead. Alternatively, if your heart beats for artistic expression and design prowess, Wix grants you a canvas to craft visually captivating websites. Your decision hinges on your comfort level with design, coding, and the balance between streamlined functionality and creative freedom.
Comparing Divhunt with Other Software Solutions